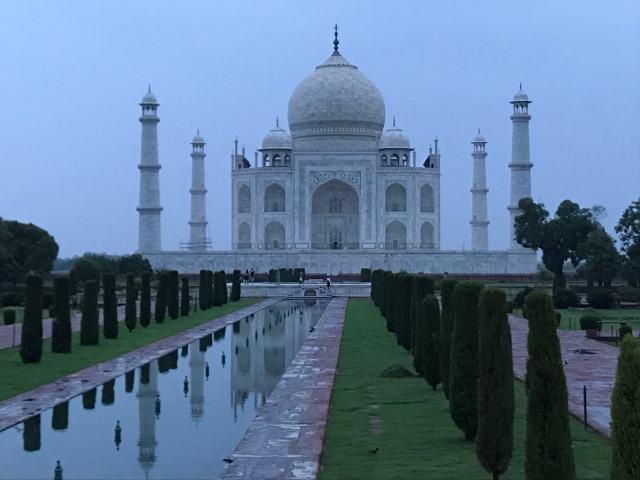 By Ben Spiers, Associate Director
The Russell Bedford 2019 Asia Pacific Annual Conference (APAC) was held in Chennai, India on 11th & 12th July. Hosted by Indian firm Sharp and Tannan, the Conference was attended by over 30 delegates from 12 countries, including Tom Green and Ben Spiers from Lee Green. This was Lee Green's second attendance at the APAC and provided a great opportunity to further build on relationships forged from the prior year as well as meet new delegates from first time attendees/firms.
The technical sessions held provided opportunity for us to compare notes on how our accounting firms are run and develop more of an understanding into the different expectations across different cultures. We also had the opportunity to discuss the future of our profession, which gave us additional insight into the things we need to be considering over the next 3-5 years.
Some of the other technical sessions covered apply to all business regardless of industry and size;
Bridging the generation gap – With an aging population in Australia we see this translating to people working longer and workplaces often have a similarly aging demographic. It's important to have a diverse mix of staff in order to bring fresh ideas and energy to your business. The ability to pass on technical knowledge and practices down through generations enables owners and older staff to focus on working on their business rather than in the business. Communication is important across generations to ensure expectation levels, particularly around work life balance and work ethic, are maintained appropriately.
Maintaining a healthy workplace – the introduction of technology often allows us to be able to work anywhere and at any time. Whilst this can be positive, it often translates into work encroaching on family time. It's important for employers to be aware of the amount of work done by employees and be reasonable with expectations. Technology can allow us to perform more work more easily but can just as easily result in overloading staff and increased stress levels. Employers should look to encourage fitness and healthy eating, team building and communication and have appropriate mental health awareness to ensure work-life balance is maintained.
Delivering real efficiency – this is an ever-changing topic as technology enables us to do tasks quicker, easier and with more accuracy. Businesses should always be on the lookout for tools to boost efficiency as it can provide value across the board. Technology can often provide the ability to take on extra work without increasing staffing or can allow business owners to minimise the amount of administrative work being done. The result of this can be increased profitability and better work life balance, both of which are desirable but should be considered as part of an overarching strategic plan for the business.
Employee performance and key performance indicators (KPIs) – This topic covered several things but ultimately once a business has set their KPIs, the most important thing is regular communication with employees regarding performance. The frequency of meetings will be dictated by the size of your business but should be quarterly at least to ensure that expectations are regularly met.
On the final night of the conference all the delegates attended a dinner which included traditional Southern Indian entertainment and of course beautiful food. Whilst the trip was short, we did manage to sneak in a bit of sight-seeing, visiting the Taj Mahal prior to the conference and catching up with colleagues in Singapore on the way back.
It was an exciting trip to a part of the world which culturally is quite different to Australia, but where the people are genuinely welcoming. It was also a great opportunity to develop working relationships with other likeminded people in firms overseas. The attendance at the Asia Pacific Conference by delegates from Amsterdam and Milan, who have Indian based clients, really reinforces that business is global and it is exciting to be a part of a network that facilitates these cross-border relationships. We have certainly seen an increase in inbound and outbound trade and investment opportunities across our client base and in those instances, it is essential to have advisors with local knowledge. It gives us great comfort to know that our clients can expect the same level of service as we would provide when dealing with other Russell Bedford member firms.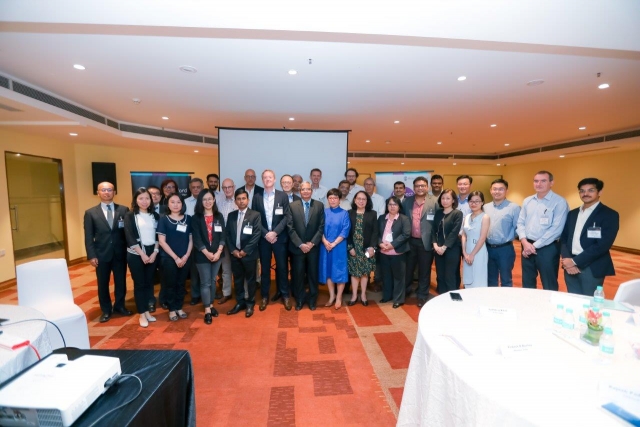 APAC attendees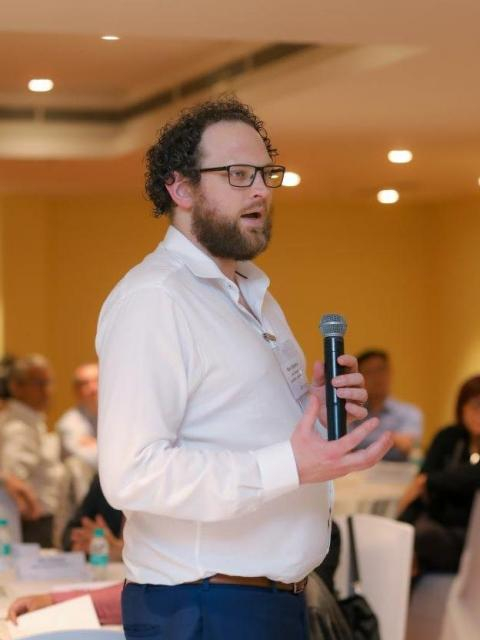 Ben presenting at the APAC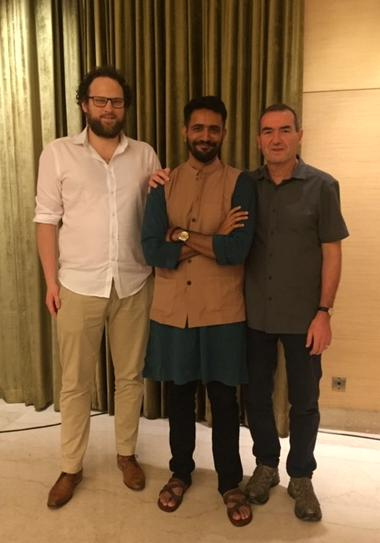 Ben and Tom with Viswanathan Vaidyanathan (Vish) of host firm Sharp & Tannan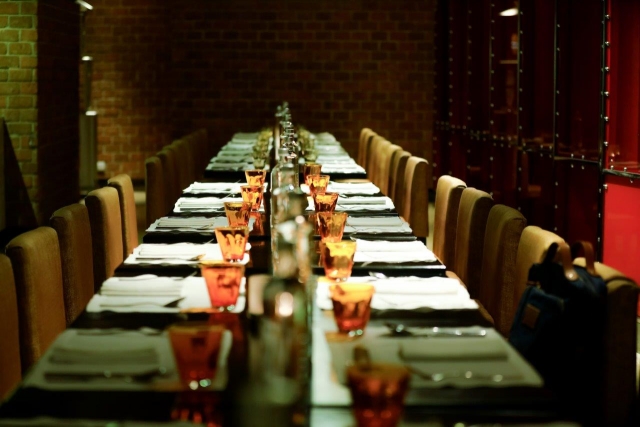 Beautiful setting for dinner on the final night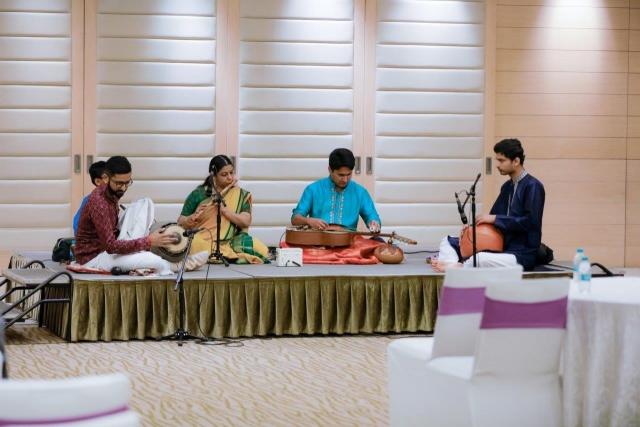 Dinner entertainment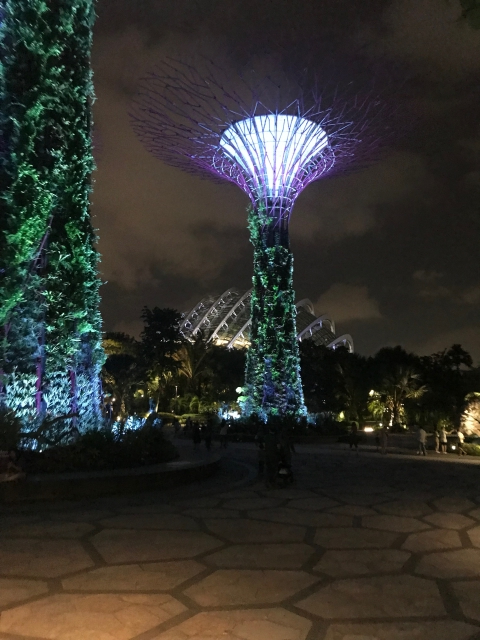 Gardens by the Bay in Singapore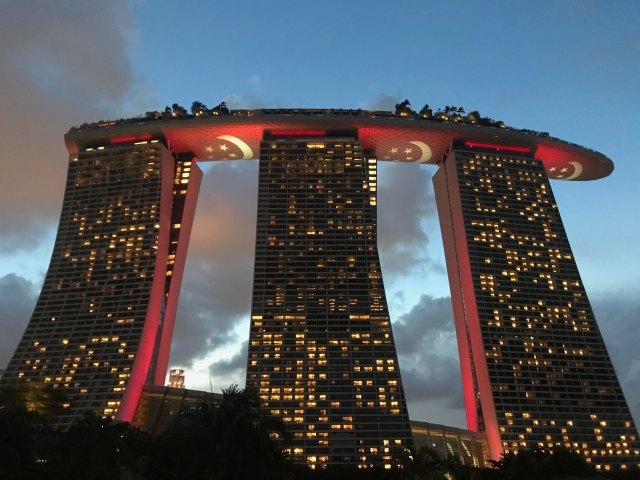 Marina Bay Sands in Singapore